In Ethiopia, some monks are using Facebook and YouTube to gain thousands of disciples, who see them as modern Messiahs.TOM GARDNER6:00 AM ET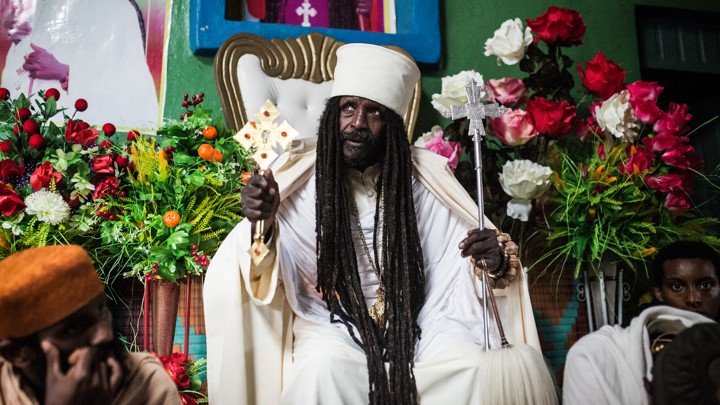 This technical savvy is characteristic of modern Pentecostalism, according to Naomi Richman, a scholar of African religion at Oxford University. So is mass exorcism, which she told me is "fast becoming a staple practice in African Christianity." Few denominations in Ethiopia have been left entirely untouched by these recent developments.
Make your inbox more interesting.
Each weekday evening, get an overview of the day's biggest news, along with fascinating ideas, images, and people.Email Address (required)Sign Up
But that doesn't mean that such articulations of the religion are entirely new, or that figures like Yohannes are without precedent in the history of Ethiopian Christianity. The faith, according to historical accounts, was brought to the country in the late fifth century by monks and missionaries from North Africa and the Middle East. Some, it is said, came bearing wonders. "The focus on miracles was there right from the inception of the monastic movement," said Theodros Teklu, a theologian at the Ethiopian Graduate School of Theology, a Protestant seminary college. Father Garima, a Byzantine prince and one of the so-called Nine Saints of early Ethiopian Christianity, was famed for his spiritual gifts, notably a power to heal the sick. For centuries, Ethiopia held a special place in the European imagination as a mythical Christian kingdom sealed off from the outside world.
Throughout Ethiopian Christian history, monks and mystics known as Bahitawi sprang up. Nomadic and usually dreadlocked, some of them gathered large followings. Joachim Persoon, a scholar of the Bahitawi, has argued that they often appeared in times of social change and unrest. "When the government was weak and unstable, people were looking for guidance and leadership," he told me. "They went looking for charismatic leaders."
Exorcism and holy water, for which many of the pilgrims in Wenkeshet were queueing, are also familiar to other Orthodox Christians—though not usually in this way. Exorcism is rarely carried out in such a spectacular, almost theatrical form. And holy water is traditionally understood by Ethiopian Christians to flow only at certain locations. For example, today many HIV victims live at Mount Entoto near Addis Ababa, in the hope of being cured by the spring water found there. Those in Wenkeshet, by contrast, are drawn by the reputation of Yohannes himself.
For preachers like Yohannes or his much more well-known counterpart in Addis Ababa, Father Girma Wondimu, "holy water is more of an accessory," said Diego Malara, an anthropologist at Glasgow University who has studied exorcisms and healing in the Ethiopian Orthodox Church. "What matters is the spiritual gift of the exorcist himself."
Orthodox figures like Yohannes and Girma often warn against rival charismatic preachers rising to prominence in Ethiopian Pentecostalism today. Some of these preachers have amassed enormous followings by appearing to model themselves on Nigerian televangelist superstars such as T.B. Joshua. But they all share an entrepreneurial—or, according to their critics, overly commercializing—attitude toward religion.
Wenkeshet, which Yohannes founded nearly 20 years ago after four decades as a traveling holy man, has administrative offices in towns across the Ethiopian region of Amhara. A workshop at the monastery makes textiles to sell to pilgrims, and Yohannes also produces his own CDs and books for sale there. He envisions turning the site of the monastery into a recreation center that will welcome tourists. And that's just the first of the five monasteries he's built so far.
"I want to build them all over the world," Yohannes told me, adding that he is currently in negotiations to purchase a plot of land in Australia. He hopes to build a hospital, schools, and a university, too, at Wenkeshet and in the surrounding area. "My vision is not just religious," he explained. "I'm an engineer, doctor, activist, writer, and farmer as well as a monk."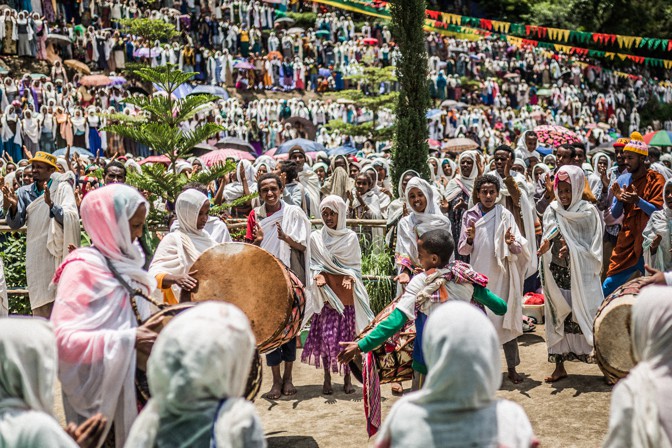 Even more controversial than this business-minded approach, at least in the eyes of Orthodox traditionalists, is the emphasis on the power of the individual preacher. "Individuals should not shine: that has been the identity of the Church for centuries," said Tekalign Nega, also of the Ethiopian Graduate School of Theology. Figures like Yohannes emphatically do shine. Michael, the young pilgrim, told me that "everybody here believes [Yohannes] is the Messiah."
Many of Yohannes and Girma's disciples are young, educated, and urbanized—similar in profile to those Ethiopians who have converted from Orthodoxy to Pentecostalism in the past few decades. Since the 1960s, Pentecostalism has grown from about 1 percent of the Ethiopian population to nearly a quarter of it today, with many converts drawn to the worldly modernity of new Pentecostal churches, their uplifting message of individual prosperity, and the promise of bodily and emotional healing through mass exorcism (or "deliverance," as it tends to be known among believers).
The Ethiopian Orthodox Church is under pressure to adapt so as to stem their congregants' flight to rival denominations. Charismatic preachers represent one possible response. In addition to pomp and theater, both Yohannes and Girma profess to offer solutions to the ills of contemporary life, like business failure, and to characteristically modern physiological complaints, like diabetes.
In this way, they also resemble their counterparts in other Christian denominations. Richman, the Oxford academic, argued the growing popularity of these traditional practices can be understood as "a refusal to buy wholesale into modernity, with its outright denial of the existence of the spiritual and supernatural." Exorcism in the contemporary world is popular, she suggested, because it works directly to address problems in the realms of health, finance, and personal relationships, "which seem to intensify in a globalized environment where the gap between those with and those without appears to be extreme."
Yohannes and Girma may be products of Ethiopia's painful encounter with globalization and its rapid socioeconomic modernization. But such theoretical explanations seemed far from the minds of the young pilgrims I spoke with in Wenkeshet, who were overwhelmed by their encounter with Yohannes. Michael, for instance, had recently landed an exciting new job with a European development agency. He credited the monk with his professional good fortune. "[Wenkeshet] helped a lot," he told me with a smile at the monastery. "This place is really blessed."TOM GARDNER is a journalist based in Addis Ababa, Ethiopia.